psience reviews
machinedrum
---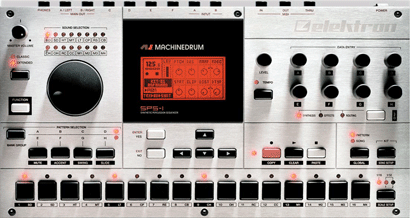 ---
I received the machinedrum within 24 hrs of ordering and have had it for about a week...
first impressions... build quality superb, this device is constructed with a steel chassis and is well designed. the lcd display is informative and well illuminated. the buttons and controls are firm and positive. the leds let you know exacly what's going on with regard to tempo and step position.
the unit is sturdy and instills confidence in the user. the sounds are superb and totally "tweakable" with the ability to change every single recorded note and even morph between them (slide). the lfo routing is mind-boggling not to mention the sixteen sequencer tracks with a pallette of 40 machines, not just percussion, deep basses, stretched and warped electronica, this machine is a dream to use, straight forward and intelligently conceived.
I have been waiting a long time for something like this to appear... it is (in my humble opinion) the best instrument I have used for the kind of music I create... bye bye roland yamaha and korg - your "bedroom dj" products with their "go faster stripes" look cheap and sound pathetic compared to this marvellously engineered instrument...
expensive? you get what you pay for (and more) as far as I am concerned.
I wish elektron every success with the machinedrum - they deserve it.
Saturday November 17 2001 at 20:28